Signs of the PCT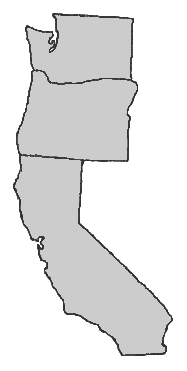 Signs of the PCT
During my
PCT hike of 2013
, I took a lot of photos, like 38,683, including pictures of signs, graffiti, and notes I encountered along my way. Why? I don't know, mostly just because I could.
Below are two videos of those signs: a three-hour "movie" showing 4,267 signs and — for those people who don't have a metric crapton of time — a condensed four-minute "trailer."
The movie includes a map that automatically updates, or you can click on the map to jump to a specific location. This same map and overlays were used for
pctplanner.com
, which I created in 1997.
In the videos, I'm shown holding a cardboard sign at each 100-mile increment of trail. I used that cardboard (made from my
food dehydrator box
) to count off trail miles and to make "
clock times
" for my website
The Human Clock
, which I started back in 2001, and which also stars a (much older) cardboard sign.
Trailer
Music: "Stumble" by
Star Anna & the Laughing Dogs
.
"Movie"
Music: "
Ambient Sonata
" by Dee Yan Kay, mixed with police scanner recordings from Hamtramck, Michigan, recorded in December 2006. (this audio concept was first done by
http://youarelistening.to
). You also might just want to mute it too.
Note: A few (like 10) images are slightly NSFW, but I left them in since they are part of the "PCT Experience".
Tangential Plug: Our dog at mile 2100 has a
popular
Instagram account at
@pdxfreecrap
.
Full Video:
191min • 4,267 photos
Trailer:
4 min • 1,500 photos